Publish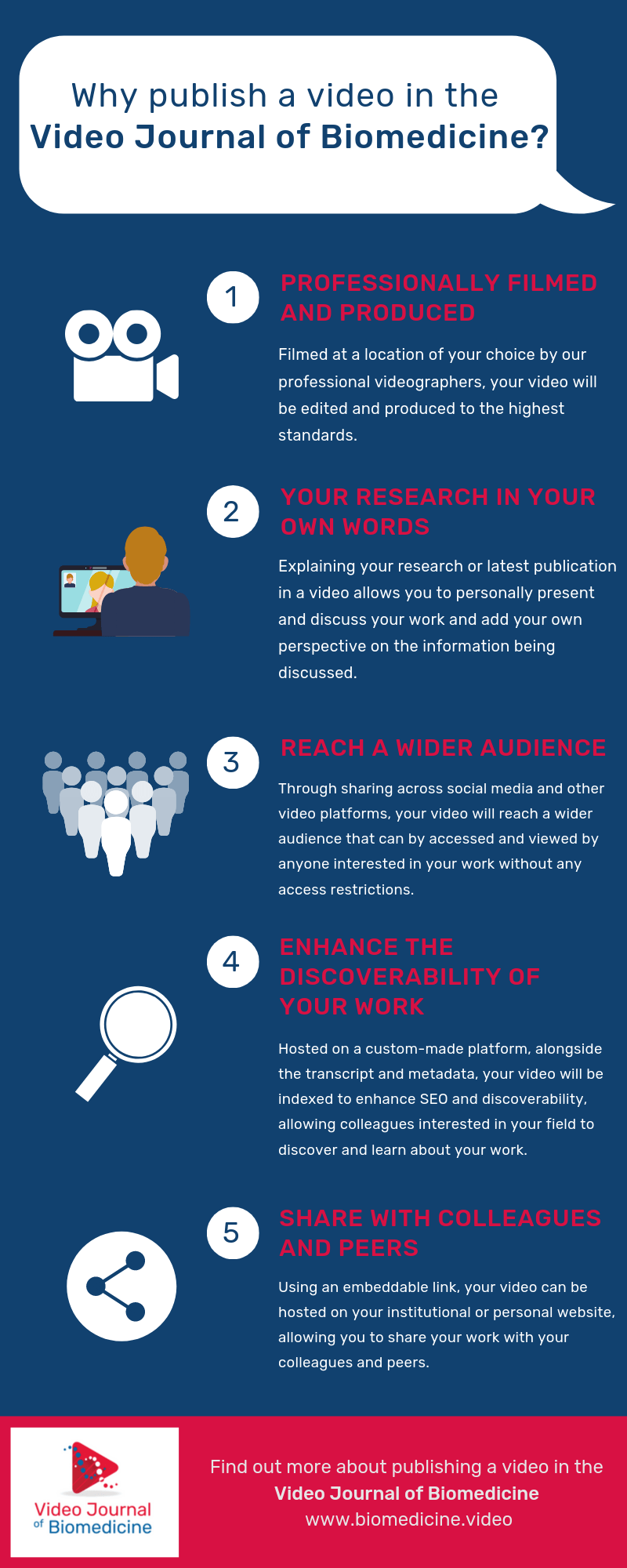 The Video Journal of Biomedicine welcomes proposals for all types of videos. The journal publishes three types of video ensuring comprehensive coverage of the latest developments across all fields. 
Publication Perspective 
These are interview-style videos with authors discussing a peer-reviewed paper they have published in any journal worldwide. These videos follow a set question–and–answer-style structure enabling viewers to gain a personal understanding of the publication and research being presented.  
Expert Perspective 
These videos provide a platform for experts to provide their thoughts and opinion on key topics in their field, whether it is discussing a new avenue of research, looking back on a field or providing a personal perspective on an emerging issue.  
Research Update 
These videos provide the opportunity for authors to discuss their latest research presented at conferences and meetings.  
If you are interested in discussing a video for publication in the Video Journal of Biomedicine please contact the Publisher of Video Journal of Biomedicine, Joanne Walker [email protected].  
Video Process
Typically, all videos are professionally filmed by our videographers at a time and location of your choice. We can feature videos that are filmed and produced by yourself or third parties, however these must be to our same standard and quality. Details of how to publish a video is available in our How to Publish a Video guide and more information is described below. 
Video Content 
Once a filming time and location has been agreed, you will be required to develop a script to inform us of the content of the video. Ideally, we are looking to publish short 8–10–minute videos. In general we recommend ~160 words per minute so this should be taken into account when developing the script.
For Publication Perspective videos, the script should be similar in content to your published article. Any additional unsubstantiated claims may mean your video does not pass editorial review and will need modification before filming, potentially leading to a delay in filming. 
All videos have an interview-style format where the content is sectioned by questions followed by answers. Therefore it is advisable to follow a question–and–answer-style format to develop the script, for instance: 
What was the purpose of this study? 

How was the study undertaken?

What were the results?

What is

/are

the significance of these findings?
The script should be submitted to the Editor prior to the filming date (ideally at least 1 week in advance of filming). The script will be reviewed internally to ensure it accurately represents the research being presented. If necessary, the Editor will seek further opinion from the Editorial Advisory Panel. Any changes requested by the Editor will be returned for incorporation into the script. 
If you would like to include any figures or other visuals in the video these should be included within the script. Where figures or tables are used from the original publication, appropriate permissions must be in place and the video will include acknowledgements to the original source of publication as stipulated by the original publisher. 
We can provide a range of support services to assist with the development of any new images for use in your video (subject to fees).  
Videos can also feature animation, for instance an animated schematic or process. There would be additional fees for the addition of any animated element in your video and this would be priced according to the complexity of the animation required. 
Filming 
The shoot can take place at a location of your choice. This must be a quiet location without any background noise. If permission is required to film in a certain location, such as at a conference, please ensure this is in place prior to filming; we can assist with this process if required. 
We recommend that rather than following the script word–for–word, this is modified to bullet form with pointers for you to follow. This will help ensure the video flows naturally and also helps reduce filming time.  
Our aim is to make the filming process as easy and natural for you as possible. We recommend the following to help prepare you for the day. 
Be comfortable

– wear clothes that make you feel confident but avoid white, bright red or all black outfits. Avoid overly patterned outfits as these can 'flash' and distract

.

 

Pressure

–

mistakes are natural so don't feel you need to say every word 100% perfectly. We take as much time as you need to capture the footage required

.

 

Practice

– identify a keyword for each sentence, then build up and learn the order of the keywords. We can always hold these up as memory joggers or you can check your notes at any

time

.

 

Pace

– remember that on video you may need to speak a little slower than you would if you were having a normal conversation. Take time to highlight words with your tone and to pause. 

 

Pretend

– take inspiration from your favorite presenter. Watch a few videos of them online and think of what it is that you like about the way they present

,

e.g.

,

their body language. 

 

Personalize

– add your own spin and personality to the video.

Modify the

script

if needed

so i

t

feels natural for the way you speak. 

 

Be clear

–

keep your language simple and include any keywords or phrases associated with your work.

 
Post-filming Production  
The footage will be edited to make a short video of under 10 minutes in length. Following filming all videos are produced and edited in-house to the highest standards, with the goal of producing the first proofs of the video within 3–4 weeks after filming has taken place. All authors will receive a minimum of two video proofs to ensure the video meets your expectations. The first round of proofs should capture all changes you require, and the second round should be used only for any consistency or additional minor edits needed. Further changes or late requests (after timelines are agreed) may incur additional fees. 
Author-produced Videos 
We work with a network of videographers worldwide who can come to most locations to film your video. However, if you fall outside of this network or have the facilities to professionally film yourself, we can accept Author-produced Videos. These must be filmed to the same high standards as if we had filmed the video ourselves.  
Author-produced Videos will follow the same process as detailed above in the Video Content section and filming must only take place once the content and style of the video has been approved. We require a high-resolution version of the video and our video editors will undertake Post-filming Production (described above) to ensure the video meets our house style. 
Publication 
Once the proofs have been approved, all videos are published on our dedicated, purpose-built platform www.biomedicine.video under a CC-BY-NC license. All videos include a link to the source publication (either published by the Future Science Group or by another publisher) as well as a transcript of the video. There is also the option to add others assets (such as supplementary tables or figures) should this be relevant. Videos will be fully navigable, allowing viewers to move easily between sections of the video. 
Videos are free to access allowing anyone to view the video without access restrictions. By using the Cadmore Media platform, descriptive content such as metadata, captions, transcripts, translations, segments, thumbnails and related assets can be added to all videos resulting in increased functionality and usability for the author and viewer. 
Post-publication 
Upon publication, all authors are provided with an embeddable link enabling you to share the video as well as host this on any website, such as your own personal or institutional/company website. 
The Video Journal of Biomedicine will undertake a number of activities to help drive viewers and readers to your video. This includes: 
Sharing

the video on

all our

relevant

social media channels

 

Hosting

and sharing

the video on a relevant

FSG

specialist website

 

If the video

discusse

s

a publication from

an FSG

journal, we will also embed the video next to the original publication on the journal page

Contextual advertising on the 

FSG

journal website for 1-month, displaying a banner advert to the video next to publication abstracts or full text articles that have significant contextual overlap with your video