TALAPRO-2: talazoparib plus enzalutamide in metastatic castration-resistant prostate cancer
Video Journal of Biomedicine
|
Publication Perspective
Video Journal of Biomedicine (2022) doi: 10.2217/vjbm-2022-0005
PARP inhibitors in combination with androgen receptor-targeted therapy have demonstrated potential in the treatment of metastatic castration-resistant prostate cancer (mCRPC). A recent clinical trial protocol, published in Future Oncology, described the design and rationale of the multinational, phase III, two-part TALAPRO-2 study comparing talazoparib plus enzalutamide versus placebo plus enzalutamide as a first-line treatment for patients with mCRPC with or without DNA damage response alterations.
In this video, Neeraj Agarwal (University of Utah, UT, USA) on behalf of his co-authors discusses their recent publication 'Talazoparib plus enzalutamide in metastatic castration-resistant prostate cancer: TALAPRO-2 phase III study design'.
Original article:
Talazoparib plus enzalutamide in metastatic castration-resistant prostate cancer: TALAPRO-2 phase III study design.
Neeraj Agarwal
, 
Arun Azad
, 
Neal D Shore
et al.
Future Oncology 18(4), 425–436 (2022) DOI: 10.2217/fon-2021-0811
Meet the speaker: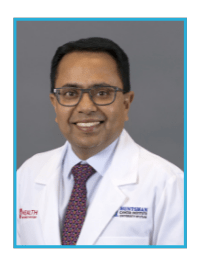 Dr Agarwal is Professor of Medicine, and a Presidential Endowed Chair of Cancer Research at the Huntsman Cancer Institute (HCI), University of Utah. He also directs the Genitourinary (GU) Oncology Program, and the Center of Investigational Therapeutics at HCI. 
Dr Agarwal is an internationally recognized physician scientist in the cancer field. He is overall study chair of multiple Phase I/II/III trials, and serves as a steering committee member of numerous other trials. He has received a SWOG Young Investigator Award, the William D Odell Young Investigator Award, and a National Cancer Institute Cancer Clinical Investigator Team Leadership Award. After receiving his medical training at the All India Institute of Medical Sciences, New Delhi, he completed a residency in internal medicine and a fellowship in geriatric medicine at the University of Iowa, followed by a hematology-oncology fellowship at HCI. 
Dr Agarwal has authored >350 peer-reviewed articles/book chapters. He serves as a panel member for the NCCN guideline committees for bladder and kidney cancers. He is an advisor to the Oncology Drug Advisory Committee and the United States FDA, and leads early therapeutics in the SWOG GU cancers committee. He holds numerous scientific communications leadership roles, including chief editor of the ASCO Daily News, specialty editor for ASCO's cancer.net site, and editorial board member of several journals. He also serves as a member of the ASCO GU Cancers Advisory Panel. Recently, Dr Agarwal was appointed as the Senior Director for Clinical Research Innovation, directly reporting to the cancer center director at HCI.